BJP President Amit Shah appeared as a witness to defend former BJP minister Maya Kodnani in the Ahemdabad Civil City and Sessions Court in the Narod Gam case, according to an article by Firstpost.
The massacre in Naroda Gam in Ahmedabad is one of the nine major 2002 communal riots cases which were investigated by the Special Investigation Team (SIT), where 11 people lost their lives.
Kodnani is among the 82 accused who are facing trial. In 2012, she was convicted on similar charges and sentenced to life imprisonment for her role in Naroda Patiya massacre, a place close to Naroda Gam, in which 97 lost their lives. She was held as the "kingpin" of the riots.
Who is Maya Kodnani?
Maya Kodnani is accused of leading a mob of thousands of people and inciting them for violence in Naroda Gaam in which 11 Muslims were killed. She is among the 82 accused who are facing trial. In 2012, she was convicted on similar charges and sentenced to life imprisonment for her role in Naroda Patiya massacre, a place close to Naroda Gam. She was held as the "kingpin" of the riots. She and 31 other convicts have challenged the verdict in the Gujarat High Court which concluded its hearing on August 30 and reserved the verdict.
Kodnani has already been convicted in the Naroda Patiya case, in which 97 Muslims were killed in broad daylight, for instigating violence and distributing arms to a mob of 5000 people.
[For further reading: Maya Kodnani's career]
Kodnani, in her application to prove her innocence, said that on the day of incident, she had visited Sola civil hospital after attending the state Legislative Assembly, and that she wasn't present at Naroda Gaam during the riots on 28, February, 2002. She claimed in the application that Shah, who was an MLA at that time, was also present at the Sola civil hospital, where bodies of 'karsevaks' killed in the Sabarmati train burning incident were brought from Godhra.
Top leaders from Gujarat BJP say that Maya Kodnani filed her application for summoning defence witnesses without even speaking to them. According to reports, when Amit Shah learned that his name has also been included in the list of witnesses to be summoned, he is understood to have expressed anger and displeasure at this and even asked the state party leadership to reprimand Kodnani.
Shah's deposition
Shah's deposition started before Judge PB Desai who had summoned him in response to the application filed by Kodnani,  last Tuesday.
Shah appeared in the packed court amid heavy security at 11 AM. In his deposition, which lasted for about 40 minutes, Shah said that he saw Maya Kodnani at Gujarat Assembly at around 8.30 am on February 28, 2002, and again at around 11 AM to 11.30 am at Sola Civil Hospital.
However, in the chargesheet filed by SIT, Kodnani allegedly left the assembly at 8.40 am and reached Naroda Gam at around 9.30 am. The SIT has cited several eyewitnesses and claimed that signals from Kodnani's mobile phone suggested that she was at the spot till 10.30 am.
"I was not allowed entry into the post-mortem room. I met with family members of the Godhra victims whose post mortem and identification was completed. There were several Karyakartas with me, people were angry and were raising slogans when I was coming out of the hospital," he said in court.
"I was at the hospital for quite some time. I remember seeing Jaideep Patel and other leaders. I tried to pacify the crowd but they surrounded me; the police had to take me and Kodnani away from the spot in one of their jeeps. This was at around 11 or 11.15 am," Shah said.
"I learnt about the Godhra incident when the home minister announced it in the Assembly. I don't exactly remember where I was sitting when Kodnani arrived at the hospital but the police did cordon us and take us away for protection," he added.
During the cross-examination by the prosecution on why he did not depose earlier, Shah said: "No summon was ever issued for his appearance. The SIT knew that I was at Sola hospital where I saw Kodnani but they never called me for testifying."
Shah replied in the affirmative when asked whether he knew that the SIT had issued notices in media asking anyone with evidence in the riots cases to come forward and assist the probe.
As many as 14 witnesses have already deposed and have been examined.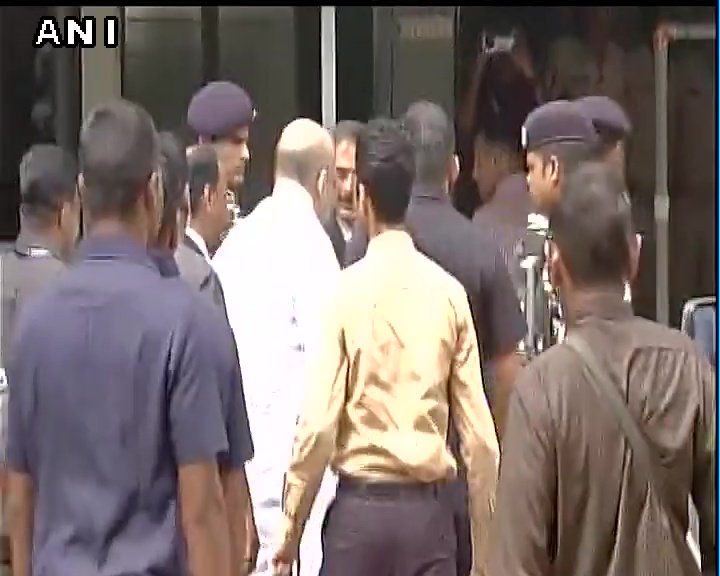 Kodnani's invovlement in Naroda Gam case:
[For further reading: Indian Express report on Shah's witness]
Possible inferences from Shah's deposition
Why Amit Shah chose to be a witness and defend Kodnani is probably to refute allegations that the BJP had left all the riot accused to fend for on their own especially their party leaders, according to another article by Firstpost.
2017 being a crucial year for the BJP in election-bound Gujarat, the party is already facing an uphill task to retain Prime Minister Narendra Modi's home state, this step is one such effort to send out a signal to its core votebank — the majority.
With Congress stepping up its attack on BJP with slogans like, 'vikas (development) has gone crazy,' the BJP is also on the backfoot on Patidar reservation issue as well. The party would obviously try everything to ensure to win the prestige battle.
The recent visit by Modi and his Japanese counterpart Shinzo Abe already established the fact BJP was on an election mode, but listing out party's achievements in the last two decades might not help BJP secure a guaranteed victory. The Patels led by their young leader Hardik Patel, who is addressing huge rallies in north and south Gujarat, is giving sleepless nights to BJP workers in the state. Support for the Patel leader is indeed a concern for the BJP which witnessed buses being burnt in Surat — one of the strongholds of Patels.
In the wake of all the developments in Gujarat, Shah's decision to stand by his former colleague and defend her in the court of law, is an attempt to send a signal that the party has not left its veterans to fight on their own.
Kodnani, who comes from a strong RSS background, had been left to fight on her own. Even the prime minister's visit to the house of party patriarch and former Gujarat chief minister, Keshubhai Patel to condole the death of his son was seen an attempt to send a signal that the seniors are still important to the party. With Assembly elections just a few months away, tokenism might matter and the message is loud and clear from the top brass.